Me and my wife Charmaine first met Justin back in 2016 when we wanted our engagement shots to be taken in Cornwall. Since we live abroad in Singapore, it wasn't easy to find a photographer via the internet that we really felt comfortable engaging with in the UK and it was only after finding and approaching Justin & Emily that we felt we were going to be in good hands. Not only were we impressed by their portfolio and the overall style of their photography, but they are such nice, down-to-earth people that we really felt they were the right ones to take care of capturing our journey together. Our engagement shots turned out magnificently and they were of exactly the kind of quality we'd hoped for.
Justin & Emily also offered to continue following our journey by taking our wedding day photos and video back in our country of residence, Singapore, to which we accepted without hesitation. They even gave us a fantastic price that was cheaper than most of the local photographers here. Unfortunately for Justin's wife Emily she was unable to make it out here to be a part of documenting our wedding, but they kept us assured that there would be a stand-in for Emily to take care of the videography, and boy, we were impressed with the guy, Hubert, who accompanied Justin in the end. He was absolutely on par with Justin and the two of them were never intrusive on the day, in fact, I can't imagine what our wedding would have been like without those two charismatic guys there capturing our special moments. The two of them got along very well with both my (British) and my wife's (Singaporean) families very well and we missed their company after they'd flown back to the UK.
A big, big thank you is in order for Justin, Emily and Hubert for making sure our engagement and wedding were both recorded just how we'd imagined!!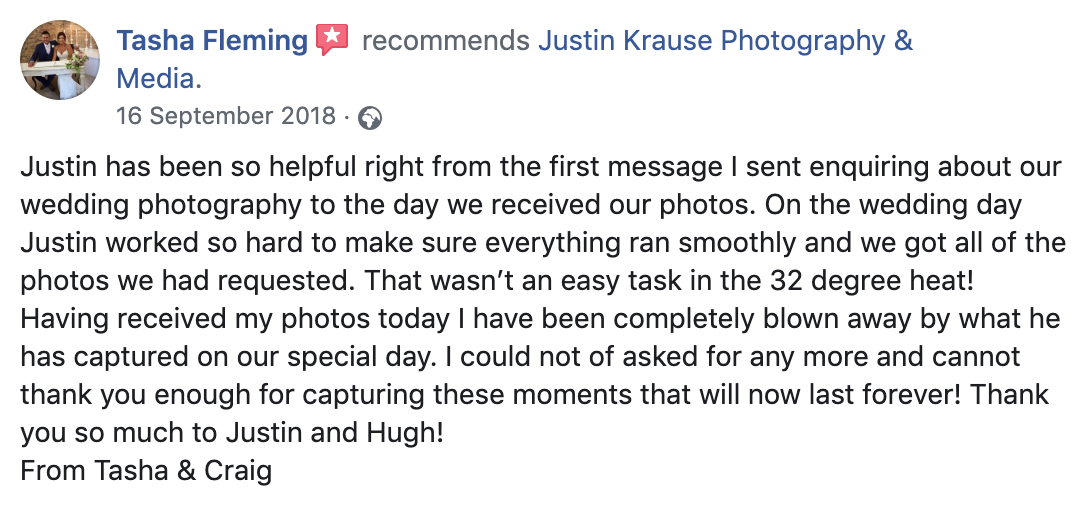 For anyone thinking about wedding photographers for your big day I can highly recommend Justin and Emily. We got married in October and received our wedding photos a month ago now. I knew the quality of their work was good from previous couples reviews but it's only when you see the photos of your own wedding that you realise just how good they really are!!! They made us and our guests feel very relaxed and captured every detail from each part of the wedding, allowing us to re-live the whole day over and over. From start to finish the whole experience was brilliant, and they really go the extra mile to make sure you get the shots you want on the day. We were also the first couple to have a wedding movie added to our package, which was well worth the money!!! I've lost count of the number of times the wife has watched it now lol. The video and photos captured our day perfectly and we couldn't have asked for anything more!!! Thanks so much guys.
________________________________________________
They captured our day perfectly while acting completely professional but always friendly.
I would recommend Justin Krause Photography to anyone. I could really enjoy the day without worrying about anything to do with photos!
When the biggest problem you have with the photos is that you want to print them all you know the photographers have done an excellent job! Thanks so much to both of you!

Nicky and Ruari
________________________________________________
Justin and Emily have captured some of the most important life events for us, our engagement, wedding, baby bump and now our newborn baby. Every time it has been captured to pure perfection by such a awesome couple and your talent and attention to detail amazes me. We love sharing these times with you and look forward to many more (however I may need to buy a bigger house as running out of wall space from all your photos). Thank you sooo much!